Click here to use the Rousseau Metal Shelving Configurator
Bin Shelving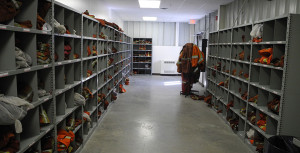 Bin shelving combines shelving with storage bins, enabling organization, configuration, categorization, and classification.Multiple shelving and container sizes are available to ensure you get a unit of bin shelving system customized for your workspace and storage areas.
Boltless Shelving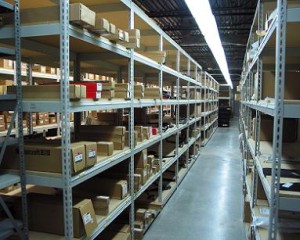 Today's economy is uncertain and rapidly changing. Dealing with constant fluctuations in merchandise and inventory, warehouse space needs to be easily rearranged at minimal cost.
Boltless shelving is able to hold heavy loads and yet can be adjusted without tools or special knowledge.It is also a cost-effective, easy-to-assemble, and very durable storage system.
This shelving type is industrial-grade shelving or pallet rack without nuts, bolts, or shelf clips.Boltless shelving is accessible from all sides and often comes complete with particleboard or wire deck depending on the brand.
RiveTier brand is the original boltless shelving. It can be assembled quickly and easily using a rubber mallet. You will have a working shelf in just a few moments without tools.
Bulk or Widespan Shelving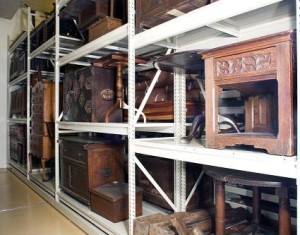 Make maximum use of your storage area.For shelving designed to contain high, wide or bulky loads, bulk or wide span shelving is the industry standard.It is shelving designed for the hand-loading of intermediate weight/bulky items.
The versatile rack system can be used for unlimited storage applications. Extra high, wide, and deep wide span shelving racks accommodate a variety of sizes and shapes.Wide span shelving is easy to set up with snap-in, pre-cut components. No nuts, bolts, clips, or tools required for assembly.
Cantilever Shelving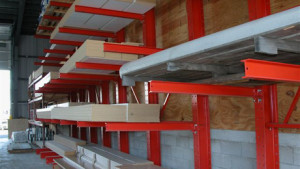 Cantilever Rack is the perfect storage system for handling various types of awkward, heavyweight materials. Cantilever rack configuration is versatile; arms can be added or subtracted, and adjusted to different levels when needed. You can add upright columns for more strength and stability.
The rack is also modular; it can be taken down and placed elsewhere in your storage facility. It makes efficient, time saving work of storing and retrieving long or awkward lengths of pipe, bar, tubing, lumber, vinyl, textiles, and poles.A forklift easily loads on or off arms and bases. Bases can be used for extra storage.For longer materials, simply add braces and upright columns to fit your needs.
Cleanroom Shelving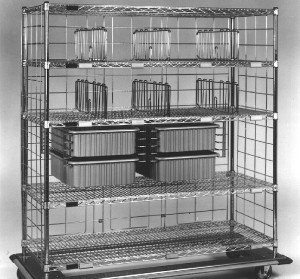 Air filtration is an important factor to maintaining required cleanliness levels. Furnishings, like shelving, should not obstruct airflow and reduce operating efficiency or increase the risk of contamination. Cleanrooms with vertical airflow require fixtures with open surfaces, such as open-wire, perforated or louvered steel and open-grid polymer furnishings.
Our Cleanroom Shelving is stainless steel and very durable, but more importantly it is non-shedding and very resilient to chemical substances. It is a recommended material for almost all cleanrooms.
Clip-type Shelving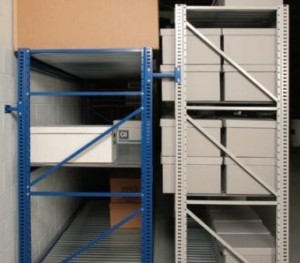 Clip-type shelving saves up to 80% of installation time and is easily moved when inventory requirements change. Features include:
Saves up to 80% of installation time
Available in many sizes
Can hold very high capacities
Closed Shelving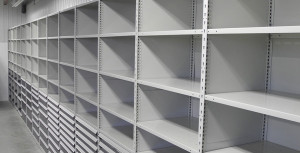 Closed shelving offers a cleaner, finished look. It is combined with a variety of options depending on utilization purposes.Product options for closed shelving include colors, finishes, and doors to create a lockable cabinet.The panels enclose the back and the sides of the shelving, creating greater shelving stability.
Closed units offer better protection of stored items than do open units.When containment and storage continuity are important, closed shelving is ideal.Closed shelving can help create a more privatized floor plan when used to segregate space and aisles; they have a more finished look and appeal which become part of the functional aesthetics, as well.
CNC Tool Storage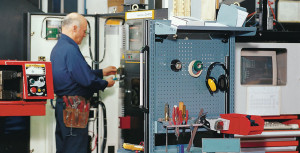 Thanks to the flexibility of the NC line, your tools will be protected during regular handling, transportation and storage. Made of sturdy PVC, the extruded part of the rack protects tools against shocks and corrosion. The tool identification zone allows for quick retrieval of tool and offerslimited contact point between tools and the rack to help prevent corrosion.
The tool rack comes with perforations to insert Taper, Straight, Sandvik Capto, HSK, KM and VDI tools. (The extruded PVC component is also offered without perforations. Personalized version available.)The compact and sturdy tool rack is equipped with practical, ergonomic handles, making it easy to carry.With its original two-level design, the rack offers improved support and increased stability by preventing tools from falling out, even in an inclined position.
Custom Shelving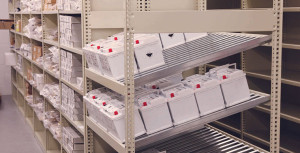 Kraftwerks will can assist in the design and layout of shelving to your specifications. Load capacities are from 550 lbs. to 1,925 lbs. and the design is adapted to manual storage in most all-industrial and commercial sectors.Shelving is an extremely versatile structure, to which a wide range of accessories can be added. Kraftwerks will assist in finding the most functional design that ensures ease of use.
Options include:
T-shape Post: The unique T-shape post offers up to 7 fixing zones for different applications. A hollow center allows for installations without interference. T-Shape is a common post for Mini-Racking and industrial shelving.
Simplicity of Assembly: Shelves are installed on the posts, using 4 compression clips in 14-gauge steel. This makes for easy and fast adjustments.
Add Accessories: Customize your Spider® system by adding a wide range of accessories.
Mini-Racking: Integrated into your shelving, this option optimizes your storage possibilities.
Drawers in Shelving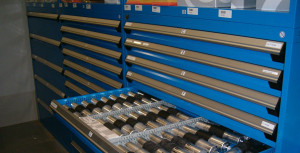 Rousseau drawers can be installed in over 35 brands of shelving on the market. They offer easy and fast installation: hook brackets on; hook rails on; and insert drawers and carriages.
They also offer a 400 lb. capacity per drawer, making them the sturdiest drawer in the industry. In fact, the lifespan of a Rousseau drawer is 3 times longer than closest competitor.
Several dimensions are available, including 36″, 42″, and 48" wide x 18″, and 24″ deep.
Heavy-Duty Shelving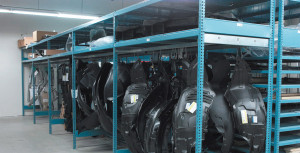 Heavy-Duty Shelving is perfect for storage of hand-stacked items, such as large cartons, machine parts, dies and more.Units consist of heavy-duty beams, frames, and galvanized steel-ribbed decking. For extra heavy loads, this shelving does the job. Thick 18-gauge construction affords superior supporting power and is perfect for heavy dies, castings, power tools, liquids, and more.
High-Density Shelving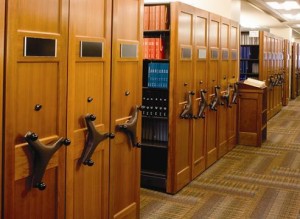 High-Density Shelving can increase the storage capacity of a given area by 30% to 50%. It combines movable aisles and stationary end units to utilize all available space.It also allows better organization of stored goods and permits improved inventory control with one-stop delivery and pick-up.
Industrial Shelving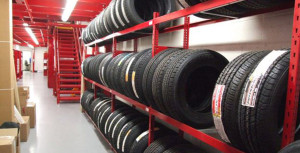 Before you decide on which industrial shelving and racking you want to purchase, you should analyze your needs so that you can optimize your space and get the highest of quality for your budget.Industrial shelving and racking for auto parts is far different than industrial shelving and racking for furniture.
Kraftwerks is a reputable and knowledgeable supplier of shelving and pallet racking. We will evaluate your space and needs, provide free consultation when selecting products, assist in the layout and floor plan, and ensure you are supplied the most optimized and efficient storage system.Industrial shelving and racking can last for decades, so it's worth the investment to get the best one for your needs.
Considerations for choosing the right industrial shelving include:
Sturdiness
Size
Mobility
Accessibility
Picking methods (forklift, by hand, hoists, etc.)
Safety is also a key issue for industrial shelving and racking. You must make sure that your industrial shelving and racking can hold your inventory securely and prevent dangerous situations like spills, cramped spaces, and clutter.
Medical Records Shelving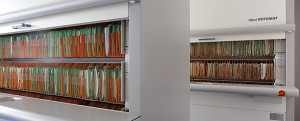 Space limitations combined with an ever-growing number of patient records calls for efficient healthcare file storage and medical document retrieval.In addition, the Health Insurance Portability and Accountability Act (HIPAA) is requiring a guarantee of security and privacy of medical records.
Mobile storage systems provide solutions to such healthcare file storage needs.Programmable electric systems accommodate heavy loads and provide necessary security features.Mechanical assist systems are ideal for the lighter, shorter carriages designed to hold microfiche cards or other small items, such as: purchasing medical records, outpatient treatment files, healthcare administration documents, human resources files, engineering documents, MIS project plans, medical library documents, clinical storage, and other patient records.
This type of shelving provides a flexible, configurable medical filing system with mobile shelving, allowing multi-departments to enhance productivity while managing their medical inventory in a well-organized fashion.
Mobile Aisle Shelving & Filing Systems (HIPPA)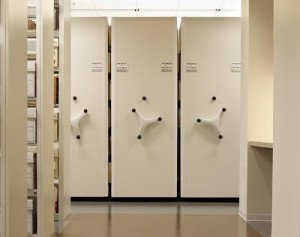 The Mobile Aisle Shelving is a space saving filing system that will provide the greatest record storage capacity per square foot.  It can often double or even triple the file storage capacity of other filing systems. This type of system offers a variety of solutions to assist the your physician's office in being HIPAA compliant.
View Borroughs Synergy Mobile Aisle Shelving
HIPAAInformation
Access and Uses. For internal uses, a covered entity must develop and implement policies and procedures that restrict access and uses of protected health information based on the specific roles of the members of their workforce. These policies and procedures must identify the persons, or classes of persons, in the workforce who need access to protected health information to carry out their duties, the categories of protected health information to which access is needed, and any conditions under which they need the information to do their jobs.
Kraftwerks is a knowledgeable and reputable supplier and a certified installer of Mobile Aisle Shelving and High-Density Storage. It is important to contact us prior to placing an order for safety and quality assurance. Mobile Aisle Shelving offers accessible design for ADA requirements.
Modular Drawers in Shelving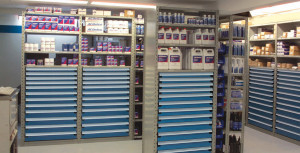 Upgrade your enclosed steel shelving with modular drawers to create an extremely versatile structure.A wide range of drawers, configurations, and accessories can be added to customize your shelving.Transform part of your steel shelving into versatile modular storage with modular drawer inserts or shelving with included modular drawers.
Drawers are equipped with partitions and dividers and are available in various heights to accommodate sizes ranging from nuts and bolts to CNC tooling and motors.This option makes sense especially when you are dealing with a storage area that requires access to small and bulky items in the same space.
Office & File Shelving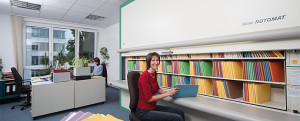 For office needs such as filing, storage of office supplies, patient and client record storage and archiving, Rousseau offers a line of versatile and attractively designed storage products that are equipped with a wide range of accessories. Rousseau has developed steel shelving with dimensions perfectly adapted for traditional archiving boxes.
This system permits you to increase your efficiency as you maximize your available space in height, width and depth.The Rousseau two-level shelving system helps you to maximize your storage by enabling you to store more documents in a smaller space.  This keeps displacements to a minimum and therefore reduces wasted time.
Pharmaceutical Shelving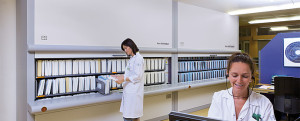 Whether it is small unit medical bottles, heavy loads of IV fluids or large healthcare case goods and supplies, flexibility in mobile storage shelf design allows for efficient healthcare filing/inventory systems.Mobile medical storage systems have the ability to close the aisles and minimize dust collection on sterile healthcare inventory.Where hygiene, security, mobility, organization, and efficiency are a necessity, mobile medical storage is the only option for healthcare and pharmaceutical facilities.
Plastic Shelving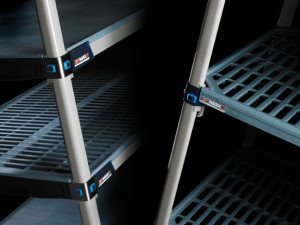 Plastic shelving is great for items of less weight and volume.  This particular plastic shelving is made from heavy-duty, high-impact polymer for long-term use. It is:
Easy to assemble
Easy to clean
No corrosion
Light in weight for ease of mobility
Versatile in use (garages, offices, warehouses, retail stores, etc.)
This unique modular design permits hundreds of configurations
Again, plastic shelving tends to be an option for many storage areas because polymer doesn't rust and it's easy to clean.The open grid shelving is great for wet or harsh environments and is impervious to oils, acids, and other solvents.Plastic shelves are used around the office for light duty jobs such as the storing of office and cleaning supplies.
Record Retention Shelving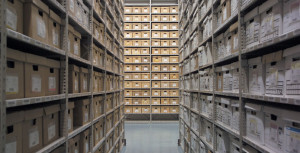 Convenient, economical bulk storage for record retention.Single or double entry units allow complete access to all files for quick document retrieval.Please contact Kraftwerks for any historical document filing consultation. There are standards for all types of filing, whether it is ISO, legal, or governmental. At Kraftwerks, we understand all proper records storage requirements.
Rivet Shelving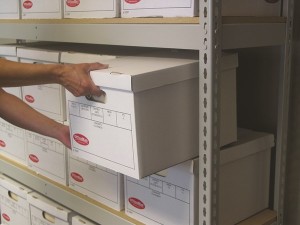 RiveTier shelving is the original boltless storage shelving. RiveTier rivet shelving assembles quickly and easily using only a rubber mallet.
It is also ideal for easy access on all sides with no braces to get in the way. No cross braces means you have access to your materials from all four sides. In a few minutes, your RiveTier Storage Shelving is ready to work for you.
RiveTier shelving is 40% less expensive than metal shelving but is capable of capacities up to 2400 lbs. a shelf. Increased capacity and reinforced shelves easily handle big loads. Double rivet beams on top and bottom provide a secure, interlocking connection.
Shelving Mezzanine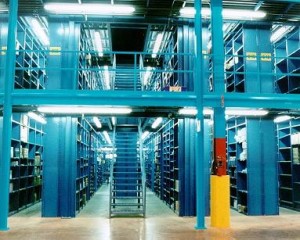 Penco mezzanines come in many styles. The most common of those shelving mezzanine styles are supported by Clipper® or Erectomatic® shelving. These can have up to 3 levels and utilize Penco channel-lock safety grating or other materials as a walking surface.Pallet rack, wide span, and RivetRite can also be used for multilevel installations.
Stainless Steel Shelving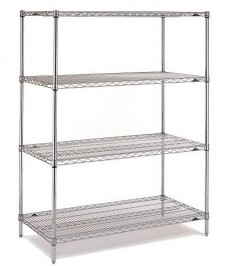 General duty steel shelving is made with sturdy construction and provides for quick assembly in the field. Features include:
Sturdy construction
Quick assembly
Quick installation
Easy wipe down (sanitary)
Adjustable configurations (open or closed shelving)
Storage Shelving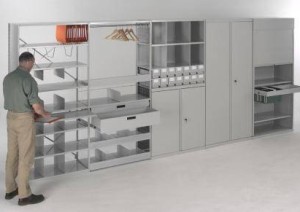 No matter what your sphere of activity is, Rousseau has a system that will respond to virtually any workspace need.Rousseau has become well known for providing adaptable storage systems and solutions, as well as products of premium quality and durability. The knowledgeable research and development team assure that the products manufactured will respond to your needs and are of industrial quality, sturdy, and durability – all without compromising aesthetics.
Wire Shelving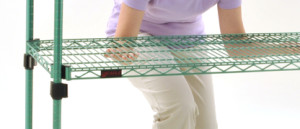 Eagle wire shelving Patented Quad-Truss® design makes shelves up to 25% stronger and provides a retaining ledge for increased storage stability.Posts are numbered on 1″ increments for easy assembly and feature adjustable leveling feet.
Features include:
Strong 1,000 lb. capacity per shelf
Permits free air circulation to combat spoilage
Improves lighting as light penetrates through shelves
Increases visibility
Reduces fire hazards
Available in five finishes to meet all requirements
Also available in custom decorative colors
X-Ray Shelving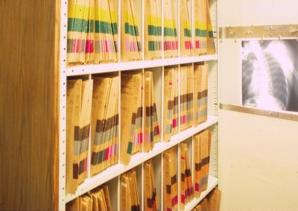 X-Ray Shelving placed on carriages is a space efficient system used to handle the large volume of images. Aurora X-Ray Shelving is the preferred brand of specialty shelving among healthcare professionals.Aurora's unique design eliminates nuts, bolts, clips and sway braces, the most common causes of snagged and torn X-Ray jackets. Aurora Shelving has great strength and excellent rigidity to preserve vital patient information.