Permanent Systems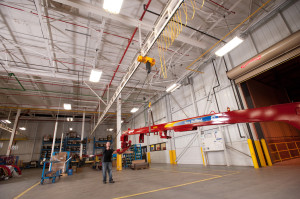 Ceiling Mounted Monorail
Rigid Lifelines® ceiling mounted monorail fall protection systems are sold as individual components, standard assemblies in kit form, or as custom engineered systems. These systems provide straight rigid track fall protection on a fixed path up to 30° off center for loading/unloading and maintenance applications.
Because monorail fall protection systems do not require floor space to install columns, they can easily protect workers in tall ceiling height situations. By using existing support steel, monorail fall protection systems can also support long runs and curves within the system design.
Freestanding Monorail
When it comes to options, our line of engineered freestanding monorail fall protection systems maximize your possibilities. The Inverted-L system connects rigid track between the support beams to offer protection for long or short coverage distances. The T-Frame freestanding monorail allows two different service areas to receive simultaneous fall protection with unique lengths of monorail support beams, if desired. And the Inverted-U freestanding monorail system is ideal for servicing different equipment hauling trucks.
Although these systems are typically installed for maintaining a variety of different vehicles, the freestanding monorail product line can also be installed over machines that need regular maintenance and inspection.
Fold-Away
Rigid Lifelines® Fold-Away fall protection systems work perfectly for facilities that need a fall arrest solution that folds up and out of the way. Often used in facilities where workers need protection under large overhead cranes, floor space is unusable, or maintenance is occurring in narrow bays with no workable ceilings, the Fold-Away fall protection system easily accommodates the job requirements.
When extended, the system provides workers with a fixed path of rigid track fall protection. When folded away, workers can easily access overhead areas. These systems are sold as either a standard kit or as custom engineered systems.
Swing Arms
Rigid Lifelines® Swing Arm fall protection systems provide a unique and versatile fall protection solution for work areas that require circular or semi-circular coverage. These systems can be mounted to existing wall columns or to the floor in a freestanding configuration. Swing Arm systems are well adapted to facilities where overhead cranes are in use. The arm can be extended as needed and retracted to avoid overhead crane impact hazard. All systems are engineered for ANSI and OSHA compliance and most are available as standard assemblies.
Wall Traveling Fold Away
Rigid Lifelines® Wall Traveling Fold-Away fall protection systems offer superior safety across a wide area spanning multiple workstations, or within facilities that also include overhead cranes. Our wall traveling Fold-Away systems fold flat against the wall and will not interfere with the work of existing overhead cranes. These systems are sold exclusively as custom engineered systems. Rigid Lifelines® is the world's only manufacturer of wall traveling Fold-Away fall protection systems.
Traveling Bridge
Rigid Lifelines® Traveling Bridge fall protection systems employ an optimal design for use in larger maintenance applications such as aircraft hangars, aircraft production facilities, transportation vehicle maintenance facilities, and industrial applications. Traveling Bridge systems are sold in both a kit form and as custom engineered systems.
These systems can be mounted to the ceiling by attaching to a building's existing supports, or they can be bolted to the floor with a freestanding support column and header design. This solution provides unencumbered movement in all three directions and eliminates swing fall related injuries when used with a self-retracting lanyard (SRL).
Portable Systems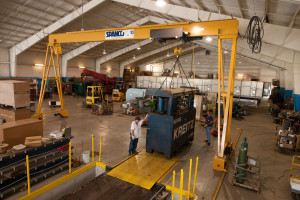 The Griffin™
Rigid Lifelines® Griffin™ fall protection systems provide all the benefits of rigid track fall protection with a sleek design and total portability. We have two different models of the Griffin™ system: skidded and wheeled.
The skidded system can be moved with a forklift.  Meanwhile, the wheeled system can be moved with a heavy-duty pickup truck. Both of these mobile systems provide a fixed path of fall protection coverage up to 30° off center. The Griffin™ is perfect for protecting workers who need to access many types of vehicles or aircraft for inspection and maintenance purposes.
Rolling A-Frame
Rigid Lifelines® Rolling A-Frame fall protection systems offer non-intrusive freedom of coverage compared to the limited footprint of coverage of a wire rope or cable system. Perfect for maintenance and manufacturing applications, our system can simply be rolled and locked into position. Its portability saves space, time, and money by eliminating the need to install fall protection around temporary work stations. These systems are sold exclusively as custom engineered systems.
Portable C-Frame
The Portable C-Frame is the ultimate solution for people who need fall protection on top of low-profile vehicles and equipment. Having a lightweight, portable fall arrest system is great for protecting workers who face fall hazards in facilities that don't have the necessary support structures. The Portable C-Frame is so light that it can be easily moved by two workers. With the right type of casters, this system can be moved to any place that needs fall protection, inside or out.
Track & Components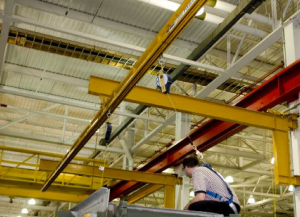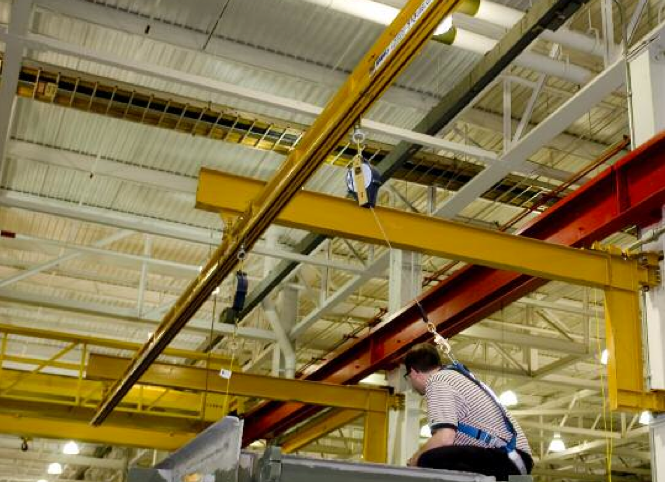 When it comes to worker safety, you need to know that your workers are protected with the finest quality equipment. Our engineered rigid track is designed by a team of certified engineers who are dedicated to developing a superior fall protection solution. No matter how high you need to work or what direction you need to travel, Rigid Lifelines® will make a system that works for you. Read about our different track options below to learn more about what system will meet your needs.