Vertical Storage & Space Solutions
Featured Product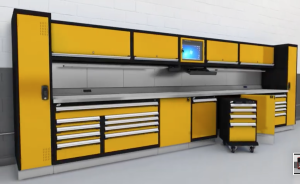 Rousseau Automotive Service Stations
Where the automotive industry is concerned, Rousseau Metal products can't be topped.
An automotive service department needs an organized space. There are a plethora of specialized tools and parts, and technicians cannot afford to waste time searching for misplaced items or trying to navigate a cluttered workspace.
The well-thought-out, smart storage and dedicated workstations that Rousseau offers are optimized to create the smartest workflow.
An optimized work area should be:
–Clean:Smart storage & dedicated task areas with strategic waste disposal
–Fast: Effective inventory management with accessible resources & fast, reliable internet connections
–Efficient: Organized tool storage, parts management & well placed electrical outlets
–Focused: Free of distractions & obstacles
–Professional: Clean, well-lit workstations that are sleek & well organized
Use the Rousseau Product Configurator
Sign up for our E-Newsletter
Learn about the latest news, advice, and products that can improve your work space.