Vertical Storage & Space Solutions
Featured Product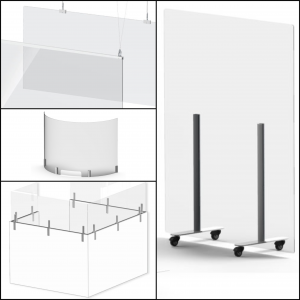 Barbican Shields/Guards
Barbican, known for its movable walls and partitions, now has a healthcare division. They offer a wide variety of separation shields/guards to ensure that any individual working for or visiting your organization can be confident that they are properly separated from other individuals and safe.
The shields/guards can be installed on top of desks, counters, and tables; are available in standing and hanging panels; or dividers for partitions/cubicles. Made from PETG material, they are durable and can be safely disinfected with health grade antimicrobial cleaners. Barbican uses a special removable adhesive for mounting the shields/guards, which makes them stable, but also allows for easy relocation.
Sign up for our E-Newsletter
Learn about the latest news, advice, and products that can improve your work space.