Air Bladder Shelf Adjustable Tables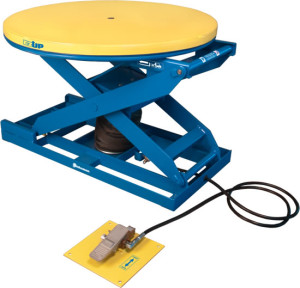 Air actuated scissors lifts provide durable and safe lifting solutions for applications which require pneumatic operation rather than hydraulic, such as explosion-proof or environmentally sensitive locations. These scissors lift tables are typically powered by heavy-duty air bag actuators, which are connected to your plant's shop air system.
Air actuated scissors tables are used in a wide variety of applications to improve worker ergonomics and enhance plant efficiencies. Air actuated scissors lifts offer a durable, low precision, low cost, and portable lifting solution which can be purchased standard or customized to fit specific material handling application requirements.
Carousels, Table Top Mounts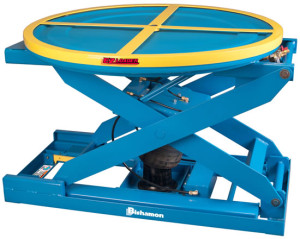 Carousels are highly utilitarian tools that ergonomically protect worker safety, while simultaneously protecting equipment. They represent a very sound investment for any company whose personnel routinely work around scissor lifts, workbenches, or designated workspaces on the warehouse floor. Carousels help minimize worker fatigue, allowing them to work more efficiently for longer periods of time.
Because of their ability to maneuver supplies using centrifugal rotation, carousels also eliminate the need for workers to lift supplies and twist their backs. This reduces the risk of back and shoulder injury and keeps products on a stable surface at all times where they are least likely to suffer breakage or damage.
Carousels work by rotating materials up to 360 degrees with the assistance of an operator. They can be positioned on top of virtually any surface, such as scissor tables and workbenches or even laid upon the floor. Once supplies or products are placed on the carousel all a worker has to do is apply slight pressure in the desired direction and let centrifugal force – not the human back or shoulders – do the strenuous work.
Hydraulic Lift Tables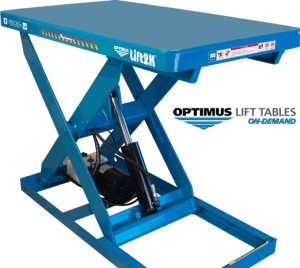 These tables are excellent transporters and work positioners with smooth lifting and lowering achieved by a central lifting cylinder. Manual units have a foot operated hydraulic pump with tiptoe release. Battery powered units use an electromechanical screw drive powered by a 12 volt, 35 amp, gel cell, maintenance free battery and come with a 10 amp battery charger.
Hydraulic Straddle Lifts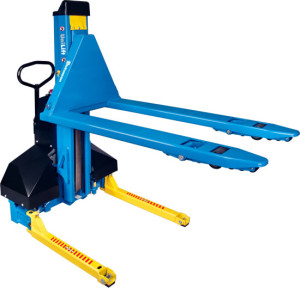 Best suited for single-level usage (ground plus one) and lower frequency cycle rates. The straddle configuration permits the choice of either "C" or "Z" loading/ unloading patterns, providing extra flexibility to maneuver loads in the direction desired. They are available in capacities up to 2,000 lbs. with lift heights up to 127″.
Features include:
20″ load centers
Solid steel adjustable width forks
Fixed or telescoping mast
Tighter turning radius than conventional fork lifts
Hand operated floor lock
Flow control valve for smooth lowering
5″ per second lifting speed
Heavy-duty battery and built-in charger
High impact phenolic load wheels
Mechanical Lifts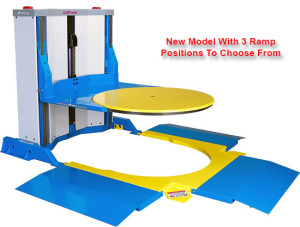 Ideal for die handling and other applications, these units feature a mechanical hand crank for precise height adjustment. Table raises or lowers as handle actuates mechanism, which simultaneously turns four screw posts.
Pallet & Skid Lifts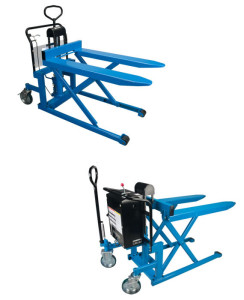 Skid lifts position skids to minimize back strain and increase productivity. It is one of the easiest ways to deal with skid loading, unloading, and mobility. Lifts increase safety, reduce injuries, and lessen worker fatigue.
These versatile skid positioners are ideal for feeding conveyors, steel punch, or print presses. All models feature a 180-degree steering arc and ergonomically designed handle. Choose from either the manual hand pump or the battery powered lift model. For use with open bottom skids or pallets only.
Pallet Trucks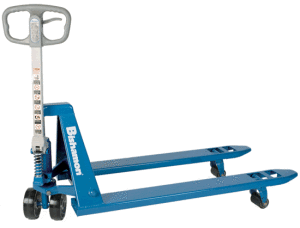 Pallet trucks are the ultimate ergonomic solution for loading or unloading pallets in applications when loads are transported with a pallet truck. These revolutionary products provide the answer for maintaining the load at a convenient working height. They also provide easy pallet rotation and near side loading to eliminate excessive lifting, bending and stretching.
Personnel Lifts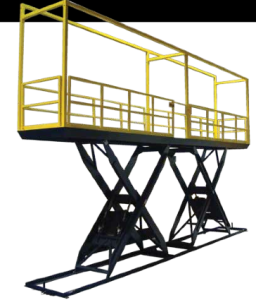 Personnel lifts play a supporting role and are ideal for hoisting men, tools and equipment to a position that cannot be reached by a ladder. They require a very stable surface. Many operation types, lifting weight, and weight capacities are available.
Positioners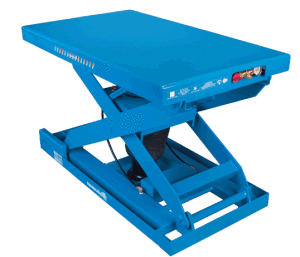 Work positioners are ideal for positioning pallets and skids to help avoid back strain and injury. Different applications that work positioners may be used for are loading presses in the print industry, helping with assembly work stations, or to lift parts to an efficient work height.
These units are portable so there is no more waiting for tow motors to retrieve components. The push pull handle is tied in with a rear caster to allow greater maneuverability in tight areas.
Scissors Lifts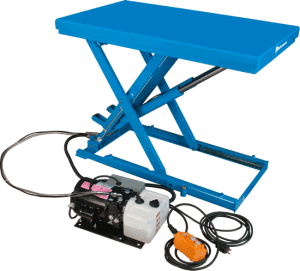 Lift tables and scissor lifts increase efficiency and prevent injuries. Workers who must lift heavy items are more likely to be injured and will work slower and less effectively.
Stainless Steel Scissors Lifts & Pallet Trucks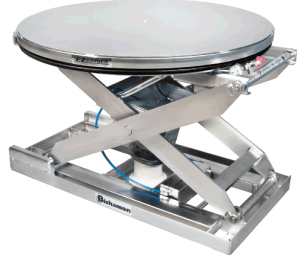 These units are ideal for use in freezers, food processing, pharmaceutical, and laboratory environments, providing the ultimate protection from corrosive environments and sanitary washdown.
Features include:
Safe for use in a variety of cleanroom environments
Offers flexible solutions to material positioning challenges
Available in six standard configurations to handle a wide range of pallet shapes and sizes
Straddle Stacker Trucks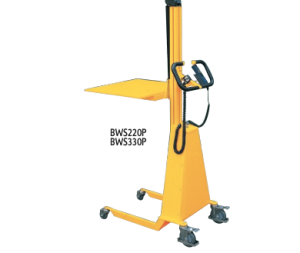 Stackers are available in a number of configurations and capacities. Whether it's high capacity, power driven, straddle, fork-over counterbalanced, or just about any other configuration you can name, we've got the product that's right for you.
Tilter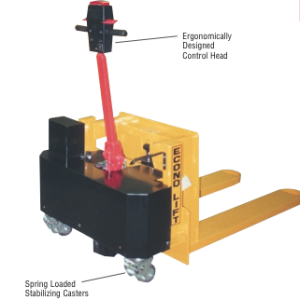 Tilters are widely used in stamping operations, assembly areas and other production facilities that utilize containers of loose components for work in progress. They improve access to tilted wire baskets, boxes, tote boxes, and other loads to improve ergonomics.
Features include:
Rugged, electrohydraulic, AC, or DC powered positioning devices
The tilt angle is infinitely adjustable from 0 to 88 degrees so you can use it for positioning applications under the toughest working conditions
Accessible, easy to reach pushbutton controls are mounted above DC power unit
Battery charger is standard
Minimum reach over allows you unlimited access to parts, components, or other items stored in bins, totes, wire baskets, and more; makes jobs like inventory or parts picking much easier
Total lock casters; lock down your tilter once you have it where you want it, with quality polyurethane casters, including roller bearings; extremely maneuverable