Bridge Cranes

When an application requires hoist coverage over a rectangular area, such as a manufacturing bay, a bridge crane is required. With it, a hoist can be positioned at any point within the rectangle, permitting lifting, lowering, and transportation throughout the area.
A bridge crane rides on runways, which are a parallel pair of beams attached to the building columns that permit the horizontal movement of the bridge crane structure. Bridge cranes come in a number of different configurations such as top running or under running and single girder or double girder. There are relative advantages to each approach and the proper selection can only be determined once the application and physical constraints are examined.
Ceiling Mounts

When a work area must be free from any support structures that may interfere with operations, ceiling mounted bridge cranes are an excellent solution to keeping floors clear.
With an overhead warehouse monorail system, the hoist and trolley run on a single stationary beam. The monorail allows two axes of hook movement, up/down and forward/back, along the monorail beam. Because of their inherent speed and efficiency, monorail material handling systems are an effective method of moving and positioning loads to specific locations.
Available in various capacities, monorails are best used in applications where materials are to be transported from one fixed point to another fixed location, or through a process. Customers can install multiple bridges along one set of runways and greatly increase their productivity.
Features include:
Ease of installation
Effortless movement
Superior load positioning
Capacities from 250 to 4,000 lbs.
Bridge lengths from 4 feet to 34 feet
A modular design for flexible factory layouts
Multiple bridges can be installed on one runway system to increase productivity and flexibility in a work area
Freestanding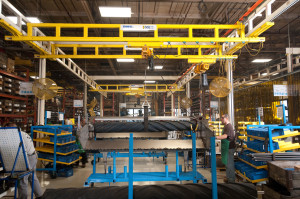 Freestanding jib cranes require a foundation anywhere from 3 feet deep to 4 feet square and up to 5 feet deep to 11 feet square. If columns or walls are not available, a freestanding jib crane will provide an optimal range of capacity and span compared to a wall mounted or column mounted crane.
Freestanding jib cranes have three installation capabilities:
A standard concrete mount is a permanent installation
A sleeve mount installation allows for future relocation of the jib crane
A base plate mount requires extra space
Gantry  

A gantry crane has a hoist in a trolley which runs horizontally along gantry rails, usually fitted underneath a beam spanning between uprights, which themselves have wheels so that the whole crane can move at right angles to the direction of the gantry rails.
These cranes come in all sizes and some can move very heavy loads, particularly the extremely large examples of industrial and manufacturing applications. Kraftwerks builds a complete range of gantry cranes including single girder, double girder, double leg, single leg, and cantilever styles for indoor or outdoor service. Capacities, spans, and heights are virtually unlimited.
Advantages include:
Can be used where overhead runways are not practical
A much greater bridge weight than an equivalent overhead crane
Because of these design limitations, gantry cranes are generally used for moving heavy loads, often outdoors
Hoists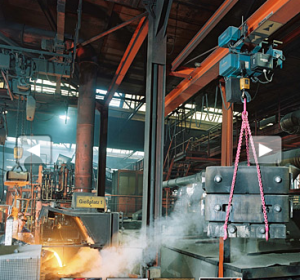 The selection of the proper hoist may be the single most important factor in designing an overhead crane. It is the hoist after all, that does the primary work of lifting the load. Hoists can be used to lift virtually any object from a small car engine to a NASA space shuttle component.
Industrial hoists can be divided into two main categories — powered and manual. Powered hoists include electric, pneumatic and hydraulic, or fossil fuel. The manual category includes hand cranked, levered, or ratcheted hoists that do not use power to function.
Jibs
When a hoisting application cannot be accommodated by the line coverage of a monorail, but does necessitate the rectangular coverage of a bridge crane, a jib crane is often the best solution.
Jib cranes consist of a horizontally mounted beam, not unlike a monorail, which can swing in a semi-circle or full circle. Jib cranes are sometimes attached to building columns or can be free standing whereby the boom is attached to the column of the jib crane that is fastened to your floor.
Wall traveling jib cranes can travel on their own track under overhead bridge cranes. Wall traveling jibs allow the operation to transport materials on two levels simultaneously and independently. When used as workstation cranes, several stations can use them.
Jib cranes can be mounted to facility floors, columns, or walls to accommodate any space constraints. Expand the jib crane's utility further, by using it as an auxiliary lifting device under an overhead crane or by attaching hoists or drives.
Hoists can be used to lift virtually any object from a small car engine to a NASA space shuttle component. Provide supplemental lifting coverage with a full 360° of operation.
Vacuum Lifts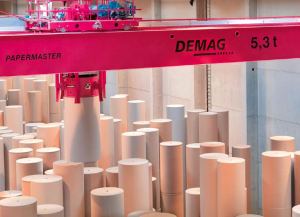 Vacuum lifts, used in conjunction with workstation cranes, enable operators to perform lifting and positioning task in a very ergonomic fashion. These mechanisms vary in their means of actuation from servo-drive lifting tubes to vacuum assisted suction tube lifters.
With OSHA enforcing more stringent regulations on workers lifting activities, vacuum lifts are gaining in popularity in the manufacturing/packaging areas. The ergonomic features in vacuum lifts have improved greatly over the years. Such things as "motorcycle throttle" vacuum regulation and force transducers on operator handles, have made these "worker assists" more an extension of their human motor function than ever before.