Featured Product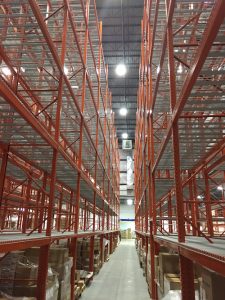 Husky Rack & Wire
Husky Rack & Wire has a few things that are "industry standard" including:
-Teardrop beam attachments — compatible with other teardrop pallet racks, adjustable to every two inches; and
-Bowlock® safety clips — securely lock beams in place for increased safety.
What you may not know is they are:
-Scalable and can be built up to 46 feet high;
-Versatile, handling heavy pallets to small objects;
-The only pallet rack manufacturer to produce its own wire deck;
-Their rack guards feature heavy-duty, 8-guage, 2″ x 2″ square welded wire mesh welded into a heavy angle iron frames;
-Their Aisle Shield provides aisle protection while keeping products fully visible and personnel safe; and
-Made in America with U.S. high-strength steel.
Sign up for our E-Newsletter
Learn about the latest news, advice, and products that can improve your work space.