Featured Product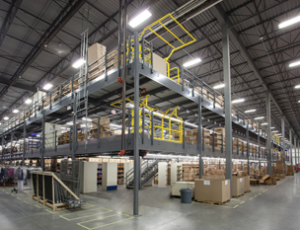 Cogan Mezzanines
Adding a Cogan structural steel single- or multi-level mezzanine will effectively increase existing floor space. Mezzanines allow you to use both the space above and below them.
Freestanding and modular, they can quickly be disassembled and moved, easily adapting to the growth and evolving needs of the organization. And since mezzanines do not extend across the full area of the facility, they have the same ceiling as the space below, enabling them to use the existing heating and cooling system.
Adding a mezzanine is an easy, cost effective way to add extra floor space, avoiding the added expense of expanding or relocating when you run out of room.
Cogan also offers:
–Guardrails, Bollards & Pedestrian Barriers
–Partitions, Machine Guarding & Caging
–Rack Protection –Lockers
–Cantilever Racking
Sign up for our E-Newsletter
Learn about the latest news, advice, and products that can improve your work space.