Featured Product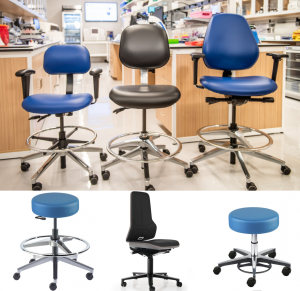 BioFit Vacuum Formed Seating
An ergonomic chair will further help avoid musculoskeletal and repetitive motion injuries. A well-designed, ergonomic chair considers posture, lumbar support, foot positioning, fatigue, and the reductions in circulation associated with the short- or long-term leaning forward motion that occurs when working.
In a healthcare, pharmaceutical, or laboratory environment, chairs must also be resistant to bacteria, able withstand rigorous cleaning/disinfecting protocols, and may also need to meet rigorous cleanroom and/or ESD standards.
BioFit has a line of ergonomic, vacuum formed chairs without seams, designed to keep contaminants from infiltrating your chairs. They use a single piece of upholstery, eliminating seams (the main path of bacteria infiltration) and preventing the soaking through of spilled liquids. The chairs are available for ISO 3 – ISO 8 cleanroom configurations.
Sign up for our E-Newsletter
Learn about the latest news, advice, and products that can improve your work space.