Featured Product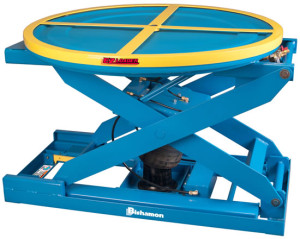 Bishamon EZ Loader
Keeping injuries down and employees safe is important. The enhanced ergonomics of Bishamon's EZ Loader will help reduce on-the-job injuries. It also speeds up the unloading and loading process because it allows the worker to stay in one position while loading and unloading.
The EZ Loader responds to the load's weight, keeping it at a comfortable ergonomic height instead of floor level and it also has a rotator ring to enable turning of the pallet position, both will reduce stretching, bending and lifting in a way that could cause injury. And the unit operates without an air hose — which can be a tripping hazard.
–Captive air operation
–Self-leveling design
–Self-leveling capacity range 250-3500 lbs (max. load capacity 4000 lbs)
–Integral rotator ring
–3-point adjustment of collapsed capacity (without changing air pressure)
–Secured ball bearing center pivot of rotating ring
–Pressure relief valve
–Durable phosphatized/powder-coated finish
–Entrapped rollers in base for stability
–Full coverage finger guard
–Integral maintenance blocks
–Arrives fully assembled
–Easily transported
Sign up for our E-Newsletter
Learn about the latest news, advice, and products that can improve your work space.