Featured Product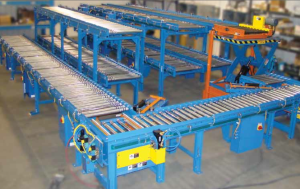 Omni Metalcraft Corp. Conveyors
Omni conveyors easily integrate with your packaging, material handling and process machinery to efficiently move items where and when you need them.
Endless conveyor solutions can be made for sorting, diverting, accumulating, indexing and depalletizing. Configurations are creative and versatile, designed to work both within your space and with your products.
–Inclines
–Curves
–Gravity Routes
Omni offers controls to optimize the performance of equipment and reduce risk, from starters to emergency stops and limit switches.
–Belt Driven Live Roller Conveyor (BDLR)
–Belt Conveyor
–Chain Driven Live Roller Conveyor (CDLR)
–Chain Conveyor
–Gravity Conveyor
–Lineshaft Driven Live Roller Conveyor (LS)
–Plastic Belt Conveyor
–Conveyor Rollers
–Supplemental Equipment
–Accessories
Sign up for our E-Newsletter
Learn about the latest news, advice, and products that can improve your work space.