Featured Product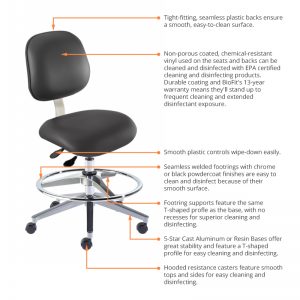 BioFit Critical Performance Seating
It's important when considering a sanitary environment to not overlook seating. In today's environment it's every bit as essential to consider not only materials and construction of seating, but also cleanability and compatibility with disinfecting agents. BioFit offers technically superior seating solutions including laboratory-grade chairs and stools designed for the demands of laboratories, healthcare, research facilities and clean room operations. They are approved for over 100 EPA cleaner-disinfectant options. And BioFit chairs and stools are stylish, ergonomic and offer long-term comfort and durability.
Sign up for our E-Newsletter
Learn about the latest news, advice, and products that can improve your work space.