Matting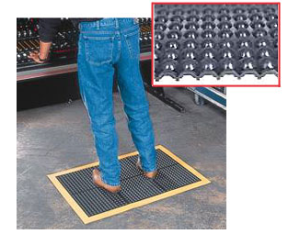 Standing for long periods of time on hard floor surfaces is very uncomfortable and causes physical fatigue. Leg muscles become totally static and constricted as they work overtime to keep that person in an upright position. Blood flow is greatly reduced causing pain and discomfort. In this situation the employee's heart is forced to work harder to pump blood through these constricted areas and the body begins to run out of energy.
However, if a person is allowed to stand on an anti-fatigue mat, his muscles will subtly contract and expand as they adjust to the flexibility of the mat. This muscle movement increases blood-flow and increases the amount of oxygen reaching the heart. Fatigue is greatly reduced as a result.
Racedeck® Flooring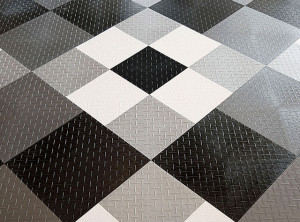 The incredibly durable RaceDeck® Garage Flooring System has multiple applications in your home, office, retail, auto shop, or even manufacturing environments, such as:
Garage Floors
Basement Floors
Workshop Floors
Exercise Rooms
Mudrooms
Daycare Centers
Nursery & Playroom Flooring
Weight Room and Gym Flooring
Airplane Hangers
Industrial Flooring
Showrooms
Exhibits
Tradeshow Floors
Motorcycle Displays
Mobile Displays
The floor tile system is resistant to petroleum products, anti-freeze, chemicals, etc. with hose-off easy-clean surface, which can handle extreme rolling load capacities. Installs quickly on any flat surface – inside or out – with simple snap fittings on tile edges. Floor tiles have a high-flow self-draining surface.
They are available in the 10 standard colors plus silver, brick red, and forest green. The flooring's patented living hinge system enables easy rollout/roll-up installation. Ideal for race teams, hospitality areas, retail displays, motorcycle, boat, and car shows.