Relocatable Walls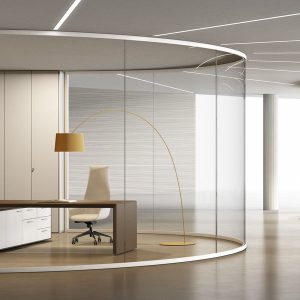 Barbican demountable wall solutions have a clean, innovative, and contemporary design — adaptable to enhance today's corporate, healthcare and hospitality environments, reducing the wasteful impact of "traditional" commercial spaces using sustainable, transformable components. Walls may include 2-sided storage, shared wall, and hinged or sliding doors. They are available in wood, glass, curved glass, high-pressure laminate, and a variety of other finishes.
Adjustable Seating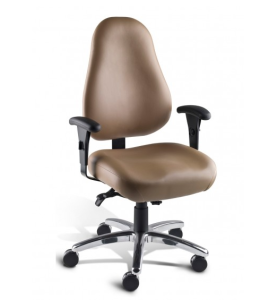 Features include:
Modular components let you customize your seating to fit your needs
Ergonomic features ensure worker comfort; minimize fatigue and chance of injury
Industrial-grade materials and construction guarantee durability
Models available for desk and bench height
Select among wide range of colors and fabric types
Options available include:
Ergonomic Upholstered Chairs
Ergonomic Static-Control Chairs
Ergonomic Static-Control Cleanroom Chairs
Class 1, Class 10, and Class 100 Cleanroom Chair
Adjustable Stools
Cleanroom Seating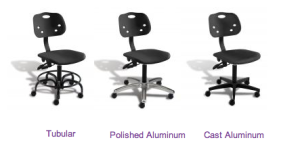 The combination of cleanroom performance and enhanced user comfort make BioFit cleanroom chairs a smart solution for increased productivity. All cleanroom chairs arrive at your door certified to meet cleanliness requirements. Class 1 and Class 10 seating is thoroughly tested to evaluate particulate emissions and packaged in a clean, controlled environment.
Our scientifically-tested and certified cleanroom chairs meet and exceed cleanroom chair performance standards for industries such as semiconductor, aerospace, bio-science, pharmaceutical, medical device equipment, computers, electronics, food processing, and munitions.
Ergonomic Seating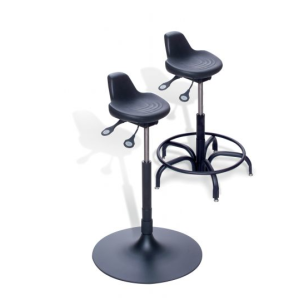 The bottom-line benefits of ergonomic balance within the workplace are proven:
Increased employee productivity
Fewer and less traumatic injuries
Fewer lost workdays
Improved workers compensation costs
Improved medical insurance costs
Risk control rather than risk financing
BioFit is a leading supplier of solutions for healthcare environments, including public areas, nurses' stations, surgery and recovery rooms, administrative offices, and more. Ergonomic features on our medical office furniture, hospital furniture, waiting room chairs, reception room furniture, and hospital chairs help reduce fatigue associated with long hours on the job. A wide variety of optional finishes and upholsteries ensure a professional appearance.
Height Adjustable Furniture
The adjustable workbench is an ergonomic solution that features a hydraulic lifting and lowering system to accommodate for different sized employees. The adjustable workbench is available in many dimensions and offers a variety of tabletops.
Kewaunee's Evolution ADJUSTAbench offers a height-adjustable workstation for multi-shift service. As the name implies, ADJUSTAbench permits adjusting the work surface – at the push of a button – to any height within its 28" to 44" design range.
Smoothly and quietly assumes a worker's precise comfort setting. Perfect for around-the-clock operations. It can even be programmed to "remember" up to three individual settings for quick, pre-set repositioning from shift-to-shift or person-to-person.
Standard 36, 48, 60, or 72" widths available. Offers a wide range of accessories and options, including ESD protection.
Industrial Seating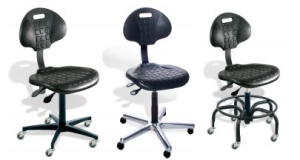 Count on BioFit for rugged construction that pampers your industrial workforce. Thoroughly tested to withstand severe treatment by two and three shifts daily, our industrial furniture – industrial chairs and industrial stools – positively affects your bottom line by ensuring your people optimum comfort while providing for maximum productivity.
All of the product series above can feature components to deliver optimum performance in even the toughest industrial environments:
Ergonomic designs
Tamper-proof features available engineered for industrial use
Guaranteed performance
Sturdy, five-legged base
Tough finishes to resist cracking and peeling
Modular construction allows component upgrades, interchanges, and replacement
Diverse collection of upholstery materials and colors
Laboratory Seating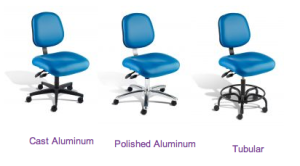 We understand that repeatable, dependable performance is crucial in laboratory environments. That is why all of our laboratory chairs and laboratory stools are engineered and thoroughly tested to be reliable, use after use.
BioFit is proud to manufacture the most ergonomic and durable, utilitarian laboratory chairs and laboratory stools available today. All of the laboratory furniture above can feature components to deliver superior performance in laboratory environments:
Ergonomic designs
Tamper-proof features available
Guaranteed performance
Sturdy, five-legged base
Tough finishes to resist cracking and peeling
Adjustable mechanisms
Modular construction allows component upgrades, interchanges, and replacement
Diverse collection of upholstery materials and colors – available with Colorguard and Health Gard® stain and bacteria-resistant vinyl fabrics
Modular Office Furniture
Modular desks and cubicles are perfect for growing with your business. Simply add to your modular office furniture system as your needs change. These open office environment systems are commercial quality and built to last, plus they are easy to re-configure.
Our casework is a true modular design that reduces cost and keeps the environment cleaner. As your mailroom or workroom needs change, our casework can be easily expanded, reconfigured, or relocated, unlike traditional built-in millwork, which is inflexible and is often removed and thrown away as needs change. The product line consists of modular base cabinets, sorters, wall-hung cabinets, and worktables that can be combined to create an effective workroom in any space.
Modular Technical Furniture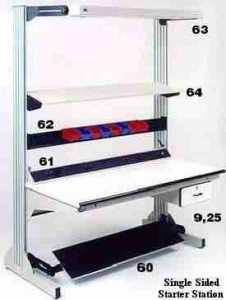 Solid slotted uprights allow work surface or optional accessories to be mounted anywhere along columns. A heavy-gauge, steel frame bolts to top supports adding strength to the work surface and lateral support to the station. Textured beige powder coat finish with blue accents strips offers a durable finish with superior esthetics. Stations are 82″ overall height. Work surfaces and optional accessories adjust independently of each other on double-sided stations.
Office Seating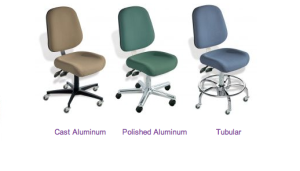 Office seating reflects the good taste and professionalism of the organization, its senior management, and its employee team. Our selections include executive seating, manager chairs, and task chairs – all loaded with ergonomic features and controls to make them just right for you, your people, and your operations. We also offer guest/reception chairs that welcome and impress your visitors. From the boardroom to the executive suite to the general offices to the outer lobby, BioFit is truly your complete seating solution.
Plastic Casework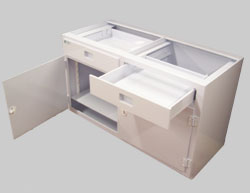 Plastic laminate casework is an economical alternative to wood and metal casework, and is often used in elementary, middle school, and high school science, art, or home economics labs. Polypropylene casework is constructed of 1/2″ and 3/8″ thick, stress relieved white polypropylene; all seams are fully welded for maximum strength and durability. Polypropylene is an extremely durable and non-corrosive material that cleans easily and does not stain.
Casework is equipped with quality components, from all stainless steel full extension drawer glides to polypropylene hinges. All edges are rounded for a safe and corner free work environment. The cabinets can be used individually or in a series, with other cabinets giving the user the ability to choose from the available styles to create a lab or cleanroom to suit their own needs. Modifications or custom designs are also available upon request.
Steel Casework
Kewaunee's SturdiLite
SturdiLite's characteristic rugged design provides outstanding platform stability for ultra-sensitive instruments, making it the perfect choice for critical needs of test and measurement applications.
Key SturdiLite features include:
Tubular steel work surface framing accommodates thousand-pound loads
Advanced laminates and cured maple work surfaces are available in 36" to 96" widths and 30" and 36" depths
Corner work surfaces and bridge units attach to the frames of two adjacent workstations to increase uninterrupted work area
Choice of single or double width pedestals or pedestal legs
Storage pedestals feature all-metal construction, with drawers suspended on precision ball-bearing slides
Shelves are available in 15" and 18" depths
Backsplashes are available in non-powered or UL Listed powered
Choice of 15" or 20" high shelf risers, with or without power outlets
UL Listed fluorescent task lights for under-shelf mounting
Wood Casework
Signature Series wood laboratory furniture is one of Kewaunee's new generation product lines designed specifically to meet today's quality/value laboratory standards. Highest standards of wood casework construction, plus multiple choices of premium wood species and beautiful acid resistant finishes, make the Signature Series the furniture the choice of laboratory equipment specifiers and users world-wide.