Cabinets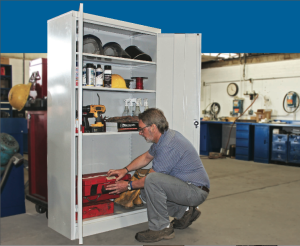 Options include:
Storage Cabinets: Storage, Narrow, Bi-fold, Gas Cylinder, Bookshelf, Too, and Bin
Door & Drawer Cabinets: Drawer, Door, and File (Stationary and Mobile)
Wall & Bench Cabinets: With Shelves, Louvers, and Bins
Tool Bench Cabinets: Workbench Surface and Tool Storage
Plastic Bin Cabinets: Hook on multiple plastic bins in cabinet to organize small parts
Safety Cabinets: Flammable, Paint and Ink, and Corrosive Pesticides
Security Cabinets: three types that are all lockable:

Double walled; fire resistant
Mesh sides; visual security
Solid sides; hidden security
Gas Cylinder Cabinets: Clearview lockable storage
Carts
Service Carts: Two and Three Shelf Carts, 40 models under 40″ high
Stainless Steel Carts, Platforms & Stands: Heavy-Duty (industrial grade) 1,200 lb. capacity stainless units
Heavy-Duty Salt Top Trucks: Designed for sliding dies and heavy items on and off top with safety to fingers and hands. Use with slings or grabs to easily transfer items. 12-gauge top, formed double channel.
Flat/Tray Top Stock Carts: Designed for rugged factory use, yet attractive in an office or a store. Series SC feature tray top shelf; SCF series constructed with flat tops. 16-gauge shelves. All trays are 2-1/2″ deep.
Instrument Carts, Platforms & Wagons: Vibration reducing transporters with capacities up to 2,000 lbs.
Vertical Panel Movers: Deck with uprights to support vertical material transportation up to 4,000 lb. capacity.
Containers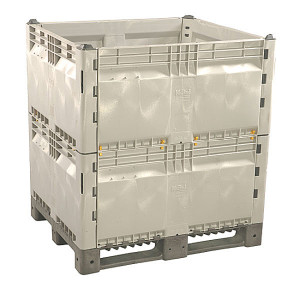 Collapsible Containers Foldable and collapsible containers and totes save up to 75% of the space requirement from empty or return transport. Quickly collapsed, they can be easily stacked for storage in seconds. Features include:
Engineered for strength and smooth functionality
Utilized in manufacturing, food and agriculture, petrochemicals, pharmaceuticals, textiles and clothing, publishing, and other industries
Containers are structural foam molded of high-density polyethylene
Requires no surface treatment or maintenance
Easy forklift access through beveled fork openings plus 4-way entry
Containers stack for cost effective return shipping or storage
Rigid Bulk Containers These stackable bulk containers offer a choice of steel containers to meet your storage requirements and are bulked up to take on the toughest, most demanding storage tasks. Impact and fire resistant, they're forklift friendly. Its unique design lets you stack plastic (HDPE) containers on top of it. Features include:
4,000 lbs. capacity
Angle corner posts and nesting caps
Solid steel design with a powder coat finish
Stackable and maintenance free
Fire and impact resistant
Corrugated panels for added strength
Half-drop access door
Ideal for over-the-road and rail transportation
Straight wall Containers These stack-only modular containers are ideal for closed loop shipping, in-process handling, and storage applications where the same containers are used throughout. Containers cube 48" x 45" and 48" x 40" pallets. Features include:
Reinforced sides and bottoms enhance product protection
Ergonomic design for manual lifting and loading safety
Interworking sizes allow mixed stacking on pallet
Cross cube models for interworking of different footprints
Injection molded HDPE construction for impact, moisture, and chemical resistance
Available options: lids, dust skirt, ID systems, drain holes, and cross-stacking bottoms
Fiberglass Containers Fiberglass containers and bins are available in a variety of formulations including flame retardant, chemical resistant, degreaser resistant, and ESD protective. In addition, these fiberglass containers stack and nest to conserve valuable space. A molded handle recessed on each end is provided for easy handling. Likewise, strong lids protect the container's contents from dirt and damage. Features include:
Extreme cold applications down to -60º F
Extreme heat applications up to 250° F (continuous) and 300° F (intermittent)
Autoclavable
Capacity up to 500 lbs. per container. Bottom container in stack supports up to 3,000 lbs.
Resistant to most oils, moisture, chemicals, and solvents, as well as irradiation
Forklift Accessible Pallet Containers (Nestable/Stackable) These containers are ideal for packaging closures, toy parts, printing trim waste, automotive components, metal and plastic waste chips, powders, and pellets. Features include:
Four-way lift access
Stacks and nests
USDA/FDA-approved material
Removable pallet base option
Dollies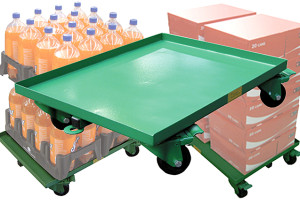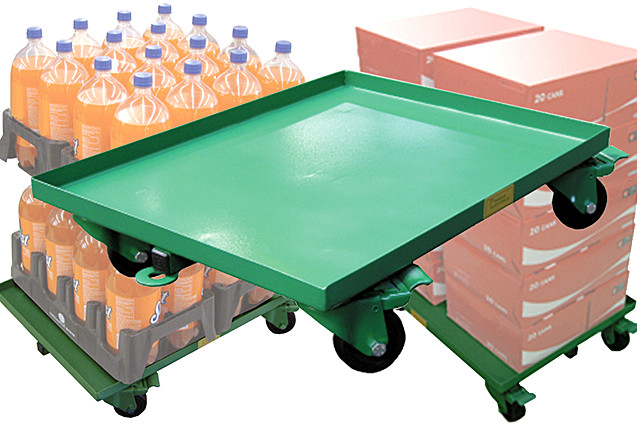 Options available include:
Aluminum Dollies: Corrosion resistant, lightweight, and durable.
Hardwood Dollies: Hardwood solid deck, flush deck, regular deck, carpet end deck, all carpet deck, and rubber cap deck.
Plastic Dollies: Strength, durability, and versatility for all your moving needs.
Steel Dollies: Standard smooth sheet dollies for heavy-duty work.
Pallet Jacks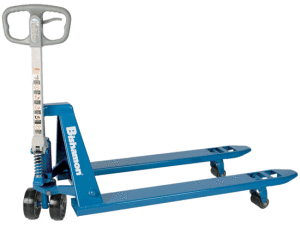 Options available include:
Deluxe and Low-Profile Pallet Jack: Steering wheels include precision bearing and dust covers for added life.
Economy Pallet Truck: Proven ergonomic design has been tested for providing years of reliable usage.
Galvanized & Zinc Pallet Jacks: Designed for chemical, pharmaceutical, and wash-down applications; comes with a 5500 lb. capacity.
Wheel Nose Pallet Truck: Features a rubber grip handle with a 3-handle position for easy operation and maneuvering.
Big Wheel Pallet Jack: Makes it easier to move loaded tubs weighing up to 4500 lbs.
Pallet Jack With Scale: Digital scale allows weighing of load on the spot for maximum efficiency.
Adjustable Width Pallet Truck: One truck does the work of two. Handles loads up to 5500 lbs. Features 3″ W.
Stainless Steel Pallet Jack: Offers the ultimate protection from corrosive environments and sanitary washdown. These units are ideal for use in freezers, food processing, pharmaceutical, and laboratory environments.
Plastic Bins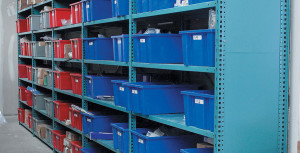 Options available include:
12″ and 18″ System Bins: They stack on shelves or rest on racks, counter tops, or carts. Quickly organize work environments.
1800 Series AkroBins®: Extra-deep bins are specially-designed to handle large, heavy or bulky items.
33″ Wide AkroBins®: The industry standard, heavy-duty AkroBins® stack on shelves and hang on AkroMils racks, panels and rails.
AkroBins®: The industry standard, heavy-duty AkroBins® stack on shelves and hang on AkroMils racks, panels, and rails.
Economy Bins: The only small parts bin that can nest and stack, maximize shelf space, and nest when not in use.
ESD Bins: Protect your sensitive electronic equipment and components from electrostatic discharge with ESD AkroBins® and ESD Shelf Bins.
Shelf Bins: Shelf Bins fit standard 12, 18, and 24″ deep shelving. Molded of durable polypropylene for years of service.
Stak-N-Store: General-purpose containers organize heavy, bulky items.
Super-Size AkroBins®: Five versatile sizes store and organize large, bulky items.
Super-Size AkroBins® – 24″ and 30″: Four new larger sizes available with optional length and width dividers plus optional window.
Tables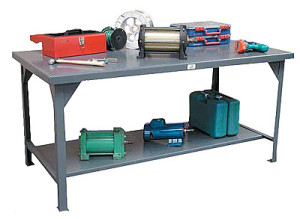 Options available include:
Mobile Tables: Designed for shop use, yet attractive enough for an office or a store. Reinforced 16-gauge shelves. All models 30″ overall height. Shelf clearance: two shelf model 21″, three shelf model 9-1/2".
Fixed Workbenches & Tables: All ruggedly built for superior durability.
Portable Table: Equipped with removable 1/4" pressed wood top and a 1/4" lip in front to prevent items from falling off. Unit has 8" high steel clipboard holder with a 70 degree slope to the back.
Pedestal Folding Table: This durable folding table is the standard for function and quality.
Multi-purpose Work Tables: Heavy-duty worktable is perfect for assembly, machine mounting, repair or an extra storage area.
Folding Table Truck: Designed for safe, efficient handling of round or rectangular tables.
Lunchroom Cafeteria Table: Durable, high-pressure laminate top resists burns, stains, and scuffs. Easy to clean and maintain.
Tool Carts & Transports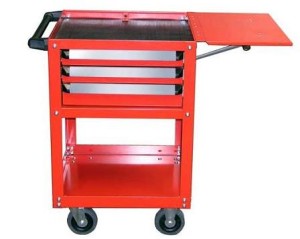 Options available include:
Platform Trucks: Plastic, steel, and wood; 33 models; deck heights 8 – 33"
Box Trucks: two, three, and four clearview or solid sides with capacities up to 2,000 lbs.
Stock and Warehouse Trucks: three – six shelf trucks over 48" with capacities up to 3,000 lbs.