Administration
The Hänel Rotomat is the ideal archive system for patient and staff files, X-ray records, and films. Day-to-day administrative tasks are accelerated and made more efficient by the automated Rotomat filing system. At the press of a button the required file is retrieved immediately. The microprocessor control unit allows you to network the Rotomat directly with your PC.
The Hänel Rotomat office carousel utilizes the available room height and creates up to 60% more storage capacity. Expensive office space is used more efficiently as a result, cutting costs.
Central Supply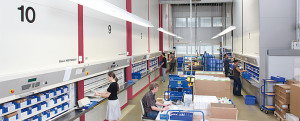 Hänel storage systems are easy to integrate into any hospital organization. The storage systems offer you tailored interiors for the most varied of individual requirements, be it for the surgical, radiology or pathology department, the central pharmacy, administrative offices, the laundry, or the maintenance department.
The Hänel storage systems are ideally suited for the retrieval of surgical instruments and equipment in the central sterilization room of a hospital.  And in many clinics, pathology compounds are stored in Hänel storage systems where they can be quickly accessed for examinations. With the automated Hänel Rotomat® filing system, the time spent on daily administrative tasks can be reduced significantly. Faster retrieval of requested files and documents makes workflow more efficient.
Products include:
Surgery: Retrieval of surgical instruments and equipment in the central sterilization room of a clinic.
Central pharmacy: Drugs stored in the HŠänel Rotomat® and HäŠnel Lean-Lift® in the central pharmacy. Continuous inventory update with short storage and retrieval times.
Laundry: The new high-speed version of the Hänel Rotomat® is the ideal system for sorting laundry and clothing quickly and making it instantly available.
Pathology: Protected storage of pathology specimens in the Hänel Rotomat.
Temperature-controlled, air-conditioned storage: The Hänel ClimateStore® technology allows Hänel storage units to be used either as cold stores or as heated storage systems.
Maintenance: Orderly storage of small parts and tools with the Hänel Rotomat®.
Central Sterile Supply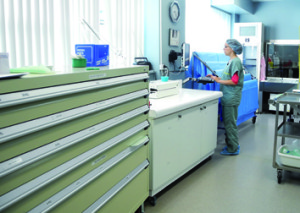 You can use Rousseau shelving units with glass doors to store your sterile supplies safely and protect them from dust; the roll-out shelves make it easy to take out heavy items. The Spider® shelving system and its many accessories have many qualities that will help you maximize your efficiency and storage capacity.
Food Service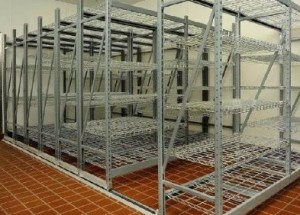 A specialized wheel made by Denstor, is food services approved.
Patient Records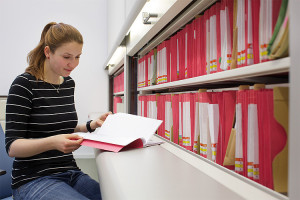 As records managers continue to debate the merits of electronic vs. paper records, it's apparent that the two will co-exist for the foreseeable future. While electronic records offer easy data access and take up little physical space, paper records are durable, familiar, and easy to secure and use.
Recent statistics show that paper use continues to grow even in today's electronic-driven society. As patient numbers grow, Denstor's heavy-duty mechanical assist systems offer optimum space savings with easy movement of shelves.
Pharmacy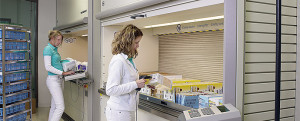 The need for fast, efficient storage and retrieval makes Denstor's systems ideal for the hospital pharmacy. Hänel's inventory control software handles the administration of the entire pharmacy and controls both Rotomat carousels. A direct link to the hospital's own host computer ensures a continuous exchange of data.
The advantages:
Continuous inventory update with short storage and retrieval times
Requires 60% less space than conventional storage systems
Reduces work time considerably with its quick and easy operation
Provides continuous inventory update
Improves organization and tracking capabilities of drug dispensing
Protects and secures the drugs in its care
Secured access and tracking capabilities provide accountability for dispensing
Radiology/X-ray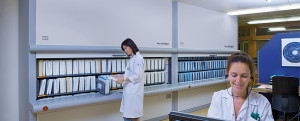 X-rays institute a real challenge when it comes to records storage. Not only are they one of the most space consuming of all records, but they are also among the heaviest. Not to mention, their five-year minimum storage requirement can lead to inconvenient and pricey off-site storage.
Surgical Supply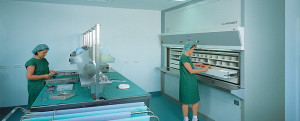 Hänel
A Hänel Rotomat looks after thousands of individual items in an orderly and protected environment, making them ready for retrieval at the touch of a button.
Features include:
Space requirements are drastically reduced
Simple to operate, with short storage and retrieval times
All stored articles are protected
High economic efficiency and reduced costs
Rousseau
When space is an issue, Rousseau can help you to maximize existing space and store more per square foot. This is possible with our high-density storage solution: Modular drawers in shelving.
This system allows for storage of items such as surgical instruments, paraffin blocks, parts that require a sterile environment, and much more. Heavy products such as glass slides can also be stored in drawers in steel shelving. Your inventory control will be optimized and most importantly, parts can be easily identified and retrieved quickly when they are needed.
Rousseau Mini Racking (bulk storage racking) is the ideal solution for storage of bulky and large items, X-ray equipment, medical supplies, and other large parts. Valuable, fragile equipment can be stored safely and securely in shelving with glass doors, which enable fast identification, and also, protection for your items. These doors are also available with a lock, so no one else will have access to these materials.
Pegasus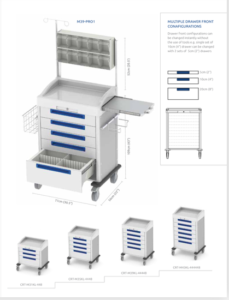 Pegasus simplifies healthcare medication and supply management with flexible, scalable Econoline medication and hospital carts. They are customizable and Econoline drawers are compatible with any ISO 60-40 tray/basket.

The Pegasus High Density Two-Bin PAR Management System is a great solution to medication supply management. The system uses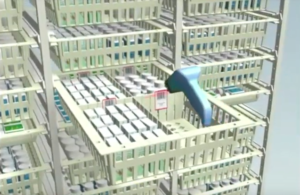 a backup bin so medications won't run out. Supply techs scan only empty front bins, rotate backup supplies from the backup to the front bin, and then refill the backup bin.