Bulletin Board Cases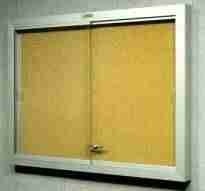 High performance and extreme durability are the hallmarks of wood and aluminum bulletin board cases. Built with care and craftsmanship, secure your accolades in our locking, sliding door, or hinged door cases.
Red oak, wood bulletin board cases are ideal for high-traffic, public areas. Available standard with sliding glass doors and a natural cork back panel, the attractive red oak case works in any environment. With a standard 3" depth, cases can hold many different types of display materials, viewed through standard tempered glass. Wood bulletin board cases can be specified with hinged doors.
Available in a variety of sizes, specify the standard natural cork back panel or vinyl tack surface. Our vinyl tack options include a variety of colors and textures: Linen Type II Vinyl, Colored Cork or Fabric. Locks are included with all models to control access to posted materials.
Glass Display Cases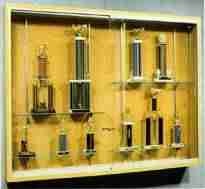 Display cases are available in tempered glass. Tempered glass is 3-5 times stronger than annealed glass and meets safety glazing requirements. One benefit of tempered glass is that when it breaks, it breaks into hundreds of blunt particles instead of large glass shards. After the glass is cut, it cannot be cut, drilled, or altered, which allows for safety of products.
Trophy Cases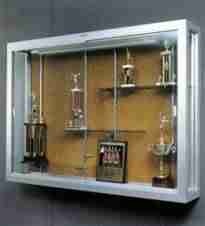 Show your team spirit with trophy cases. They provide a clean, safe viewing area for trophies, models, artwork or other precious items you want to exhibit. Attractive in design, yet durable enough to withstand a well-traveled school hallway, these cases are constructed with satin anodized aluminum structural and trim extrusions. All cases have sliding or hinged doors and are available with tempered glass. Tackable back panels and lighting are available as options. Customized units are also available.
Wooden Display Cases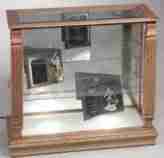 Trophy and display cases available in different wood finishes, allowing you to blend your frames with other wood furnishings.
Options include:
Oak
Maple
Walnut
Cherry Veneer
Clear lacquer is a standard finish on wood veneer
Custom stains are available