The Mobile Aisle Shelving is a space saving filing system that will provide the greatest record storage capacity per square foot. It can often double or even triple the file storage capacity of other filing systems. This type of system offers a variety of solutions to assist the your physician's office in being HIPAA compliant.
View Datum Storage Systems Video
HIPAAInformation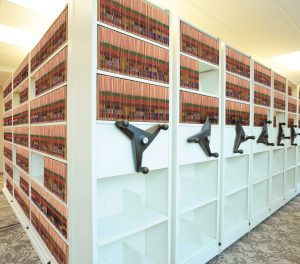 Access and Uses. For internal uses, a covered entity must develop and implement policies and procedures that restrict access and uses of protected health information based on the specific roles of the members of their workforce. These policies and procedures must identify the persons, or classes of persons, in the workforce who need access to protected health information to carry out their duties, the categories of protected health information to which access is needed, and any conditions under which they need the information to do their jobs.
Kraftwerks is a knowledgeable and reputable supplier and a certified installer of Mobile Aisle Shelving and High-Density Storage. It is important to contact us prior to placing an order for safety and quality assurance. Mobile Aisle Shelving offers accessible design for ADA requirements.